On Sale
Happy Birthday Game
Meaningful Celebration Game – Experience Happy Birthday
Share with your colleagues, family members, and friends a heartwarming celebration gathering with this meaningful game of questions and challenges! Have fun enjoying this activity together and be sure to make them feel special in a unique and memorable way! #recognition #givemomentsnotthings


Want to create a memorable birthday celebration? 
Happy Moments will highlight the person you're celebrating and create a joyful, inspiring, and memorable experience for everyone.
Place the Happy Moments Experience box in the middle of the table so that everyone can pick a question during the celebration and join in the fun!  You can also slip a card, face down, onto the steam of everyone's wine glass. Then, when the desire strikes, the guests can flip their card over and read the question out loud.
All the questions and challenges have been developed to showcase the person you are celebrating, spark meaningful reflections, and really celebrate this special day in a memorable way!
-Include 30 question cards and 3 playful challenges.
-Yellow cards: you get to ask the person celebrating their birthday to answer your question.
-Grey cards: a question for the guests (your friends, family, or colleagues). The person who picks the question can answer it himself and all the other guests 
-Striped cards: fun challenges for all the guests.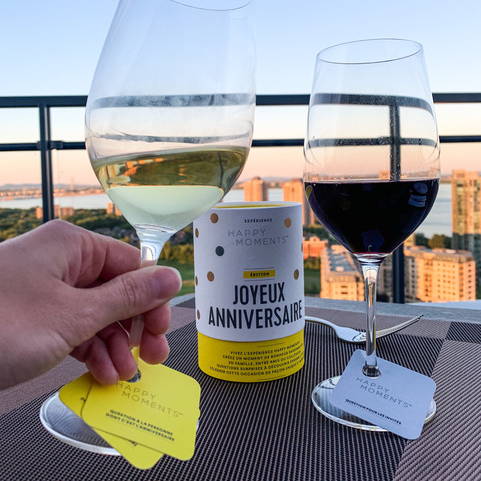 You can even attach question cards to wine or champagne glasses! We know... simply genius, right! ;-) 
Expected Delivery
Decoration:
Decoration type will be determined in the proofing process once we receive your art/logo and the best method(s) will be chosen at that time.

Reach out to us to have our design team help design your perfect design.